A beautiful and impressive cave sitting high above the Verdon, the sheer size (160m high and 400m wide) and overhanging profile of La Ramirole make it truly eye-catching.
The variety and length of the routes as well as the quality of the rock are sure to impress.  The excellent friction of the rock can make it abrasive for the skin of your fingers…or your knees! Be patient, your skin will get used to it and you will develop callouses worthy of Jimi Hendrix!
A harness, a Via Ferrata lanyard (or two long quickdraws) and a belay device are required for the approach. An ascender may also be useful and a helmet is highly recommended.
You will have the privilege of choosing between seventy bolted routes graded 6c and up, up, up… Climbing at La Ramirole will involve tufas of various sizes, crimps and pockets with some footholds better than others!
The sector is north facing (slightly north-west for the left side of the crag) and the best time of year for climbing is from April to the end of October though some routes may seep after periods of rain.
…..
Climbing is tolerated so please respect the Parc Naturel des Gorges du Verdon and its other users.
The foot of the crag is sheltered and not directly exposed to rain so please don't go to the toilet (not even to pee) in the direct vicinity of the climbing. The vegetation on the left is exposed to rain and provides plenty of spots out of sight…
Please don't trample the vegetation and keep to the traced paths so that the foot of the crag doesn't become a giant dust bath!
As the sector is new, you have the bolters' permission to tighten the bolts (17mm or 19mm spanner required) in order to maintain this beautiful area.
La Ramirole was bolted by volunteers and the topo guide is available free on the Greenspits website. Please share the website rather than a photocopy of the guide.  Take action now and support our initiative by becoming a member of our association!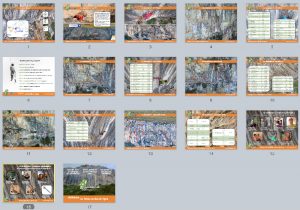 Enter your mail, name and surname there :
Localisation

Latitude

: 43.7353

Longitude

: 6.36528